Cats for Adoption
To learn more about the cats featured below, please visit the Animal Shelter in person to see our entire, wonderful selection of adoptable cats. For Shelter hours, visit the Adoption page.
SADIE is a 1-year old brown tabby female cat. She's being a little camera shy here, but, believe me, she's a friendly girl with lots of love to give.
GRAYCIE is a lovely shorthaired Russian Blue mix adult cat. Her gold eyes are a beautiful contrast to her blue/gray coat.


JOCELYN is a darling 5-month old Tortoiseshell kitten. She made the mistake of nibbling someone else's cat food in a MeadowCreek garage and was turned over to the Animal Shelter. Sounds like a savvy little survivor to me!


DONNIE is a 4-month old male kitten found on Mt. Tom Road in Bishop. No one has claimed him, so he is officially available for adoption.


ISABELLA is an elegant spayed female cat found on Sierra Street in Bishop. No one seems to be looking for her, so she is available for adoption.
---
We've been adopted!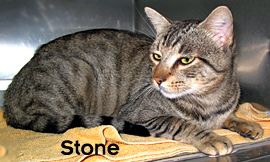 ---