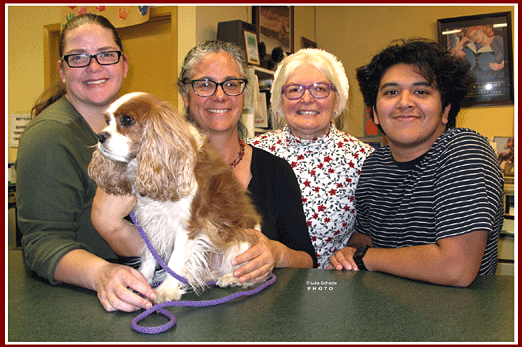 19th Annual ICARE Shopping Day at Spellbinder Books was lots of fun!
Spellbinder Books of Bishop's 19th annual ICARE Shopping Day on December 15th was well attended. Eighty-three shoppers purchased $5 coupons to qualify for 20% off their purchases ($415). Proceeds were directed to the ICARE Stitch Fund, which helps "special needs" Inyo County Shelter dogs and cats get the veterinary care they need to find loving, adoptive homes. The adjoining Pupfish Cafe's owner, Janette Bachman, donated the days' tips, as well as 10% of their sales, totaling $145. Additional donations in the amount of $2,266 were added to the coupon sales and Pupfish Cafe proceeds for a grand total of $2,826 raised to help deserving pets in need.
We are very grateful to Lynne Almeida, owner of Spellbinder Books, her staff and all the kind and compassionate shoppers who came out to show their love and support for this very worthwhile fundraiser! To see photos of the event, just click here.
---