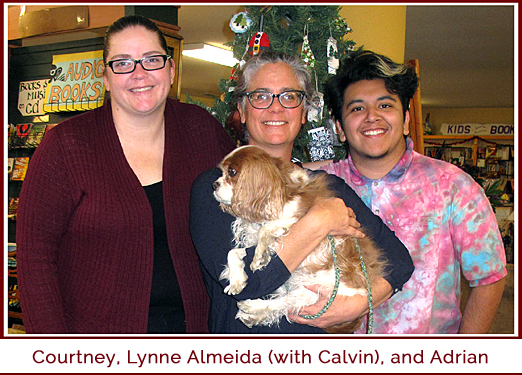 20th Annual Spellbinder Books/ICARE Benefit Shopping Day - 12/14/19
Spellbinder Books of Bishop's 20th annual ICARE Benefit Shopping Day on December 14th was lots of fun for shoppers and raised much-needed funds for ICARE;'s Stitch Fund, which helps ill or injured Inyo County Animal Shelter pets receive lifesaving veterinary care. Sixty-one shoppers purchased $5 coupons with proceeds totaling $305. Coupons shown at the register were good for a 20% discount on purchases made that day. The adjoining Pupfish Cafe's owner, Janette Bachman, donated a percentage of the cafe's sales for that day totaling $150 for the Stitch Fund. Additional donations in the amount of $2,078 were added to the event's proceeds for a grand total raised in the amount of $2,533! What a wonderful community of animal lovers we are blessed with.
Special appreciation goes out to Lynne Almeida, owner of Spellbinder Books and ICARE Board member, as well as her capable and personable staff, and the dedicated shoppers who came out to show their love and support for this very worthwhile cause for pets in need.
---